This week I started doing something new and different, and loving it. When was the last time you started doing something new?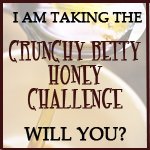 I am taking Crunchy Betty's Honey Challenge. She is challenging us to clean our faces with honey.
This week I joined
Crunchy Betty
and others with a challenge to clean my face with honey. You may be wondering why on earth would I use honey to clean my face. Well to be honest I wasn't using anything but water. I have tried all sorts of facial cleansers over the years. But over the same years my skin has gotten more and more sensitive to the chemicals and fragrances in the cleansers. So I stopped using all commercial products. On the rare occasion that water did not seem like enough I would use a little Witch Hazel to clean followed up with some aloe. When I discovered this challenge I thought it was meant to be. I had just picked up some natural raw honey last week for my green tea.
Not only am I doing this challenge I have convinced my two girls to try it too.
So - Why honey?
Honey has been used for ages, archeologists have found honey in Egyptian pyramids. Honey never goes bad, it may crystalize but it does not go bad. Additionally it :
i

s antibacterial and antimicrobial? It will get off any lingering nastiness that's thinking about setting up camp on your face and creating pimples

.

is slightly drying which means it helps soak up any pimples or oiliness
is incredibly moisturizing. Seems like a double standard, doesn't it? But it's true. Honey sinks into your skin and moisturizes like you wouldn't believe. (Remember Cleopatra and her honey baths to look young?)
imparts all kinds of beneficial enzymes that work at scrubbing your face for you, as well as perform a little anti-aging action.
is great for acne, aging skin, normal skin, dry skin … honey loves EVERY SKIN TYPE.
is healing and helps repair acne sores and scars.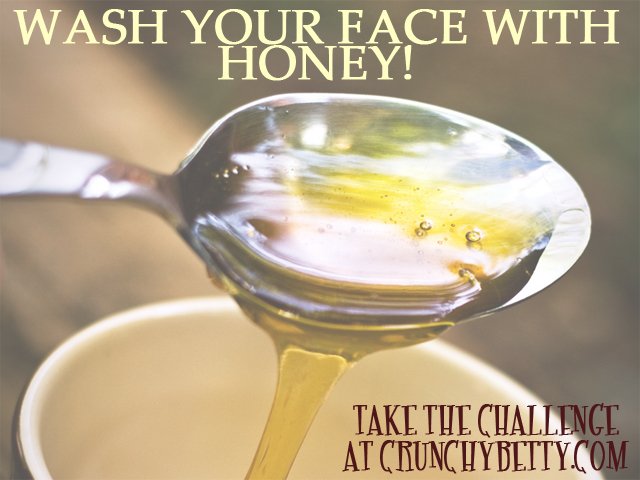 How to Wash your Face with Honey
Tie your hair back or get it out of your face. (Honey makes hair really sticky.)
Pour 1/2-ish teaspoon of honey into the palm of your hands and rub your hands together for 2-3 seconds, just to warm up the honey. If you add just a little bit of water, it makes a nice lather and is easier to spread.
Place the honey on your face and massage it in for a minute or two – all around, don't forget an inch of face.
Optional – leave the honey sitting there on your face for 5 or 10 minutes, just so your skin can drink the goodness in. I like to leave it on until I feel my skin tightening like a good mask
Rinse a few times with warm water. You'll be surprised at how quickly and easily it rinses off!
That's it. Sounds easy doesn't it? I am ready because I had given up on all facial cleansers, most of them included fragrance that irritated my skin. So if you would like to join me here is the link to
Crunchy Betty
. She has lots of information on the why and how of washing you face with honey.