This give away is now closed. Thanks to Everyone who participated.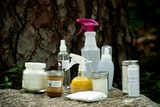 Regular readers of my blog know that I am a fan of
natural cleaners
. I have been making my own for years. I started with just simple white vinegar when I first got married. It really helped me to get over some allergy and auto-immune issues I tend to have.
Even though I have been making my own cleaners for years, I am always looking for ways to improve them. How can I make them better, easier? So when Jenny at the Peaceful Housewife asked me if I wanted to review her new e-book I said sure.
I would just like to add that Jenny was one of the first people I linked up with when I started blogging for earnest this year
. Even though we have not met IRL she is a local peep to me. Maybe one of these days our schedules will synch up.
First of all what I love about Jenny's recipes for cleaners is that she uses ingredients you are likely to already have in your home, and if not, they are readily available at your local store. For example her furniture polish is simply olive oil and lemon juice. My house smells good just mixing it up. If I have any left I can make my
homemade vinaigrette
with it. Jenny has included many recipes for the modern home, granite cleaner, wet mop refill cleaner, stain remover, even a gel stain stick. Have I mentioned how much I miss my stain sticks?
Now I know that not everyone is a DYI sort of person like me. So if you would rather, Jenny has products available for sale on her website.
The Peaceful Housewife
. All of her products come unscented or in your choice of scents, with the exception of their Multipurpose Cleaning Spray and Glass Cleaner. Those two items do not come custom-scented because the essential oils that we've chosen to use in them are part of what makes them work so well.
For those who are more adventurous and would like to try their own hand at making cleaners. I am giving away
2 copies
of the e-book. All you have to do is go on over to
The Peaceful Housewife
look at her scents and them come back here and tell me what scent you would love to try in your house. This giveaway will be open until 9am Friday, September 9, 2011. I will be using Random.org to determine the results of the winner. Good Luck.